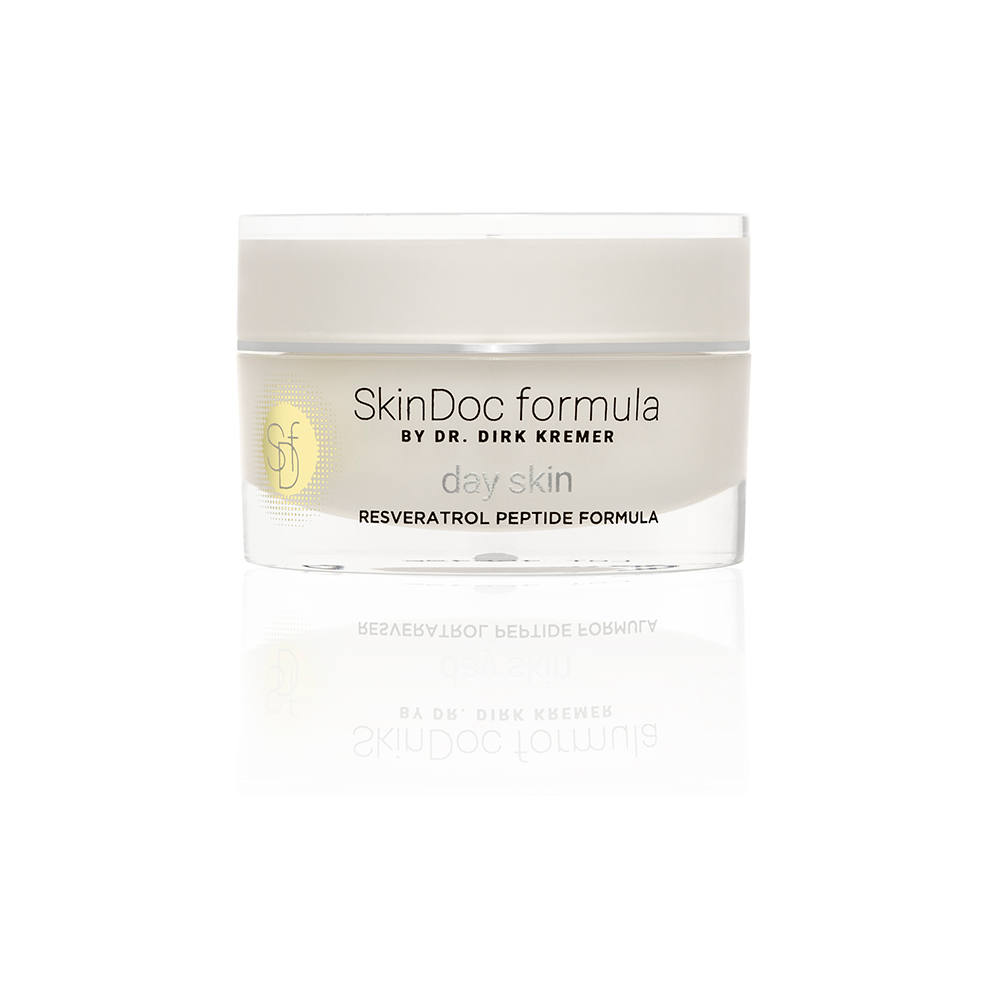 Day Skin
Resveratrol Peptide Formula
A dull and uneven skin tone coupled with unavoidable expression lines can exaggerate the appearance of age. To counteract these two age-contributing factors, Day Skin delivers a powerful formula to revive the skin.
The MAIN active ingredients which make Day Skin an outstanding day product are five specific peptides which help minimise muscle contractions while stimulating collagen synthesis to help reduce the appearance of expression lines and strengthen the skin's elasticity and suppleness.
Hyaluronic acid helps to deeply moisturise the skin. This complex, age-defying formula is designed to help alleviate expression lines, provide antioxidant protection, hydrate and keep the skin youthful and radiant.
In addition we added a single plant ingredient, Resveratrol, which complements the benefits of 'day skin's' powerful peptides. It is found abundantly in the skin of red grapes and, as such, some of it is transferred naturally into red wine during the fermentation process. Over the years, red wine has gained a significant reputation for having a positive influence on health benefits.
Although conclusive scientific analysis of the ingredient is still in progress, important skin lightening, complexion improvement effects and antioxidant benefits of resveratrol have been observed on the aesthetic appearance of the skin.
Directions: Apply daily in the morning to clean face and neck.
Ingredients: Palmitoyl oligopeptide and palmitoyl tetrapeptide-7 stimulate collagen production, smooth wrinkles and encourage rapid cell turnover to make skin look younger, with the latter also reducing skin inflammation and having the ability to lighten skin. Palmitoyl oligopeptide has many of the same results that Retinol produces but without the side effects as redness, stinging, peeling and itching. Other than retinol this peptide is not sensitive to the sun and so is the perfect replacement of retinol in your skin treatment during daylight hours. You don't need to wear a sun-blocker and can work on your tan while still have the benefits which usually are produced by retinol.
Neuropeptides hexapeptide-8, pentapeptide-18, acetyl glutamyl heptapeptide-1 and dipeptide diaminobutyroyl benzylamide diacetate disrupt the natural pathway of neurotransmission to the muscle. They help extend the effects of BoNT-A injections and provide a softer appearance with expression lines being diminished.
Resveratrol, a strong antioxidant, protects against UVB- and UVA-mediated oxidative stress and skin damage. It also stimulates collagen synthesis and has skin lightening abilities.
The inclusion of hyaluronic acid and squalene rounds off this incredible anti-ageing formula by providing intense moisturising ingredients with the remarkable ability to draw in moisture from the air and trap it within the skin.
£180 GBP 30 ml